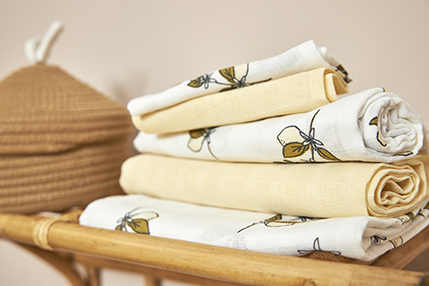 Wastips
---
Onze producten zijn een 100% natuurproduct en veelal gemaakt van katoen. Dit is extra veilig voor je kindje, omdat de stof ademend is.
Was onze producten met zo min mogelijk wasmiddel. De huid van een pasgeboren baby is zacht en teer, daarom raden wij aan om onze producten met een wasmiddel te wassen wat hypo-allergeen en ph-neutraal is of gebruik een beetje babyshampoo. In ander wasmiddel zitten vaak geur- en kleurstoffen en deze stoffen zijn niet geschikt voor een teer babyhuidje.
Per product staat op de waslabels vermeld op welke temperatuur je onze producten het beste kan wassen; dit is vaak op 40 graden Celsius. Klop het dekentje niet nat uit nadat je het uit de wasmachine haalt, maar stop het op lage temperatuur even in de droger of hang het uit aan de waslijn. Na een aantal keren wassen krijgen dekentjes soms een badstof-effect, omdat door het natuurlijke proces de haren weer in elkaar gaan zitten. Herhaal dan het wassen en drogen op lage temperatuur, zodat de vezels in de stof weer rechtop gaan staan. Op deze manier blijven de items nog langer mooi en blijft de kwaliteit het beste behouden.
Producten met een vulling, zoals boxkleden of gevoerde slaapzakken, kunnen in de wasmachine samen klonteren. Bij het wassen hiervan, is het essentieel om in de droger te drogen. Bij het drogen aan de lijn kan de vulling verzakken en klonteren vanwege de zwaartekracht. Dit kan alleen voorkomen worden in de droger met de tennisballen. Als tennisballen tijdens het drogen in de droger worden geplaatst, slaan de tennisballen tijdens het droogproces herhaaldelijk op de vulling. Hierdoor wordt de neergeklapte toestand losser.