Set up your baby's room?
This is how you do it!
---
Setting up the room is one of the most fun things to do in preparation for the arrival of your little one. It is therefore tempting to go all out right away, because everything is just too cute in those baby stores. Before you start, read our practical step-by-step plan, so that you also keep it very budget-friendly!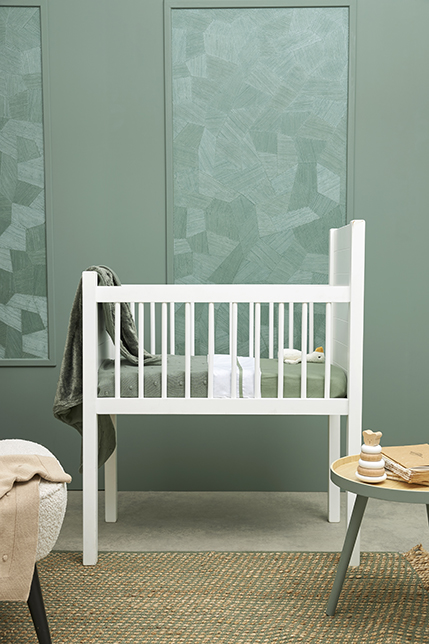 Start at the base, end with details
Your baby's room is primarily intended for sleeping and resting. Your child has his own place and feels completely at home. When furnishing, you start with the space itself: the layout, floor and walls form the basis. You can choose to keep the home furnishings you already have, or you can completely turn things around. Depending on your style, preference and your nesting urge


Choose your furniture
When you understand your style, choose your furniture. The bed, chest of drawers and a wardrobe are the foundation of the room. There are many options for setting up your room in a budget-proof way. Choose second-hand furniture that you can renovate yourself, or think a little further ahead and choose a chest of drawers that can later serve as a cupboard. Or go for a "growing cot", which you can later turn into a toddler bed. This is not only economical, but also a sustainable choice!
Tip: If you opt for wooden furniture and if you have a wooden (colored) floor, use a rug under the bed so that the different colors of wood do not overlap too much.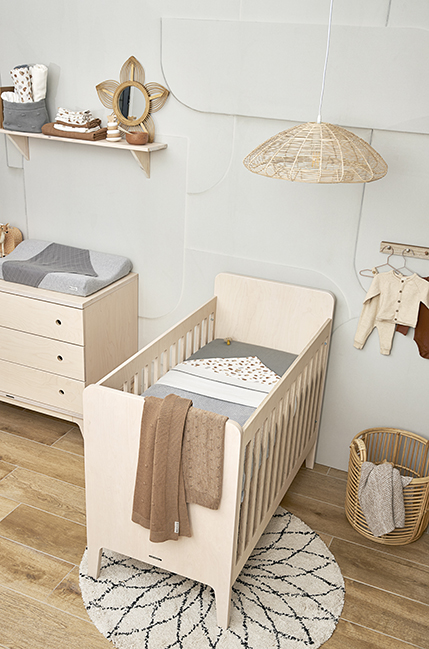 Your foundation is laid now you start styling
Tip: First choose the bed textiles within your style.
Do you opt for plain or calm textile? Then you can go all out in the rest of the room with prints, details and accessories. Wallpapering is totally hot! From jungle to floral print. Choose your bed linen with a cheerful colorful print, then a calm room styling is a good idea.
Tip: Choose a color from the textile as a basis for the paint on the wall. Take your textiles to the paint shop so that you can choose the right color palette together. In this way everything combines well and you keep the balance in the bedroom.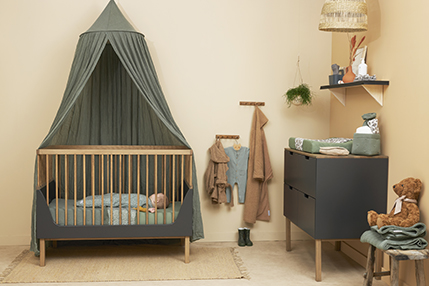 Step-by-step plan for decorating the baby's room
1. Mood board
Create a mood board on Pinterest, for example. Create a nice overview of your preferences regarding the cot, changing table and bedding.
2. Choose your furniture
Are you going for a completely new set, a mix of new and used or everything second-hand? Give used furniture a completely new look in the color you like. In any case, always pay close attention to quality and safety.
3. Choose your bedding
Indispensable and atmospheric is the bedding. With the Meyco Baby collection you can mix & match your own style. All bedding is made from natural materials. Tip: choose a shade for the wall from the color of the bedding.
4. The color of your walls
It is best to choose 1 or 2 walls that you give a tint. You give the other walls a basic color or another color within the pallet. You can play with the space this way. If you make a long wall darker, you create more length in the room. A shade on the shorter walls creates a more secure character.
5. Choose your accessories
With accessories you provide the finishing touch to the baby's room. They determine the atmosphere, but are often also functional. For example, lights, storage baskets or photos with personal memories. And don't forget the trend of the moment: the mosquito net. This mood maker also provides a very secure feeling for your little one.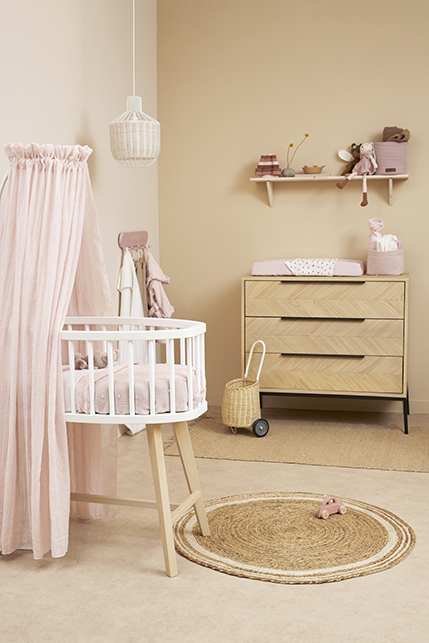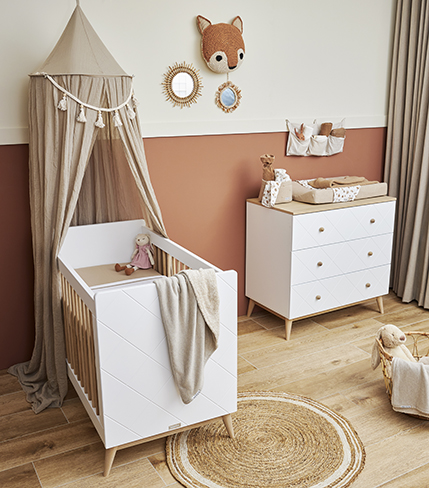 Mix & Match for your baby's room