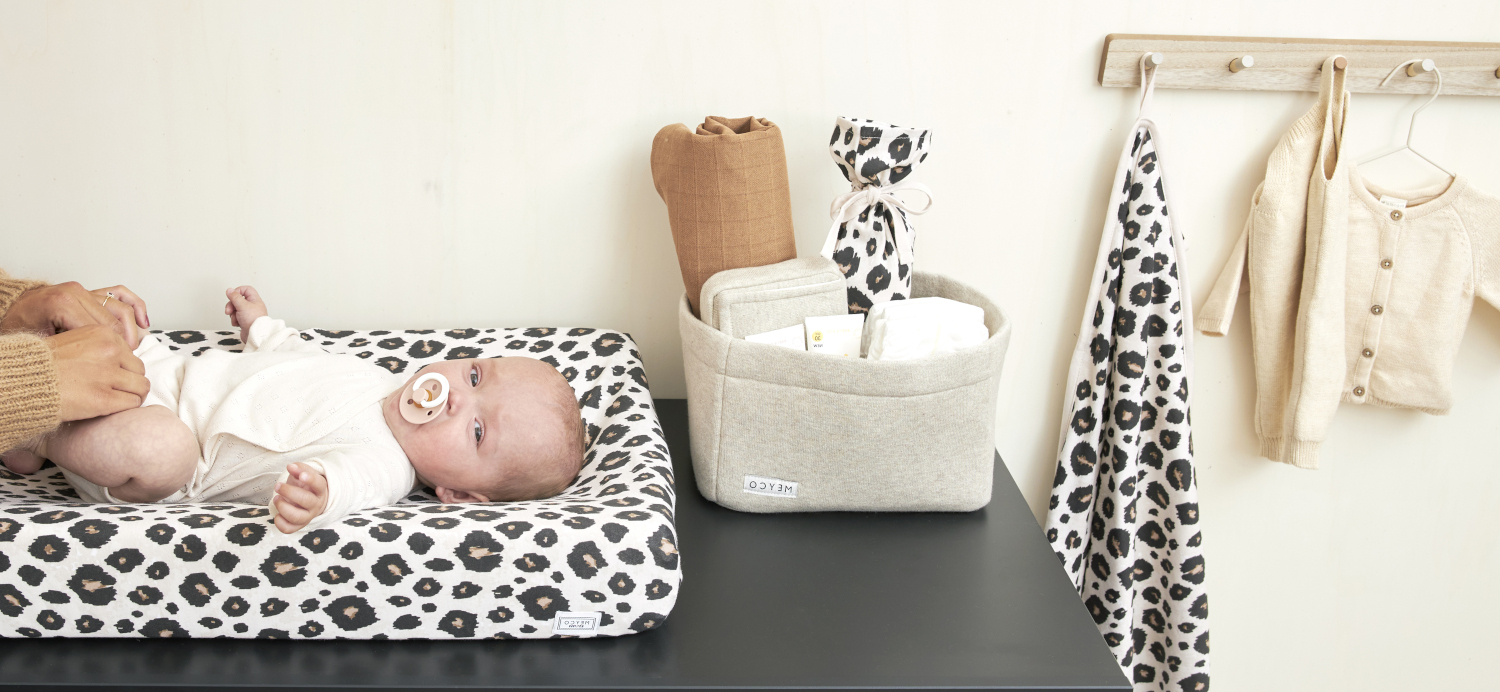 Your small and dependent baby needs you very much to be well cared for. But of course your toddler too. Whether it's a clean diaper, a lovely bath or giving delicious food, with our different Meyco Baby care products this all goes just that little bit better. Not unimportant, you can easily mix and match the products from our wide range with each other and look great in every baby's room!

CHANGING PAD COVERS
Of course you want the very best for your baby and a changing pad is important to make it more comfortable for your child while you are changing diapers. For additional comfort for your baby after bathing or while changing, you can put a soft changing pad cover over the pad. At Meyco you are at the right place for an extensive range of affordable changing pad covers made of various beautiful soft materials in the most beautiful colors and with the best prints and designs. This makes the cushion with changing pad cover a real eye-catcher on your changing table and you can customize the baby room to your own taste. & design.
MUSSLIN BLANKETS & SWADDLES
Parents who are expecting for the first time often only hear about muslin cloths pretty late in teh process. You've probably never missed them before, but once the baby is born you can´t live without anymore. It is also a popular maternity gift! Now, what are muslin cloths exactly? Muslin cloths are light, thin, made of 100% cotton, absorb moisture and dry super fast. They are also very nice for the sensitive baby skin. You can use them as a towel, burp cloth, as a bib, as a surface for changing, as protection against the sun and so on... Fortunately, there is a great varitey to choose from at Meyco in different colors and for an affordable price. The sizes include: large muslin multi blankets and swaddles, muslin squares, muslin face cloths & muslin wash mits. For almost every collection we offer suitable muslin cloths in the nicest colors and with the nicest prints to mix & match according to your own style.
BABYBATHROPES & BABYBADCAPE
With a Meyco baby bathrobe or baby bath cape, your little one is extra well prepared for the bathing ritual. In addition to being incredibly cute, the cuddly soft material makes it very comfortable and practical. When your baby has just gotten out of the bathtub, you can keep him or her nice and warm. The biggest bath splashes are absorbed quickly! A baby bathrobe or baby bath cape is of course also nice on a holiday at the swimming pool or during check-ups at the doctors office. Nice & affordable at Meyco.
Newborn babies often have difficulties maintaining their own body temperature. It can then help to preheat a baby cot or a pram, for which a hot water bottle comes in handy. When using a hot water bottle you will always needs a hot water bottle cover. This ensures that the baby´s skin never touches the hot water bottle directly. Meyco has a wide range of covers which are fun to combine with other items from your layette. As mentioned before; only use the hot water bottle to preheat the bed or pram. Remove the bottle when the baby is in the cot or pram!