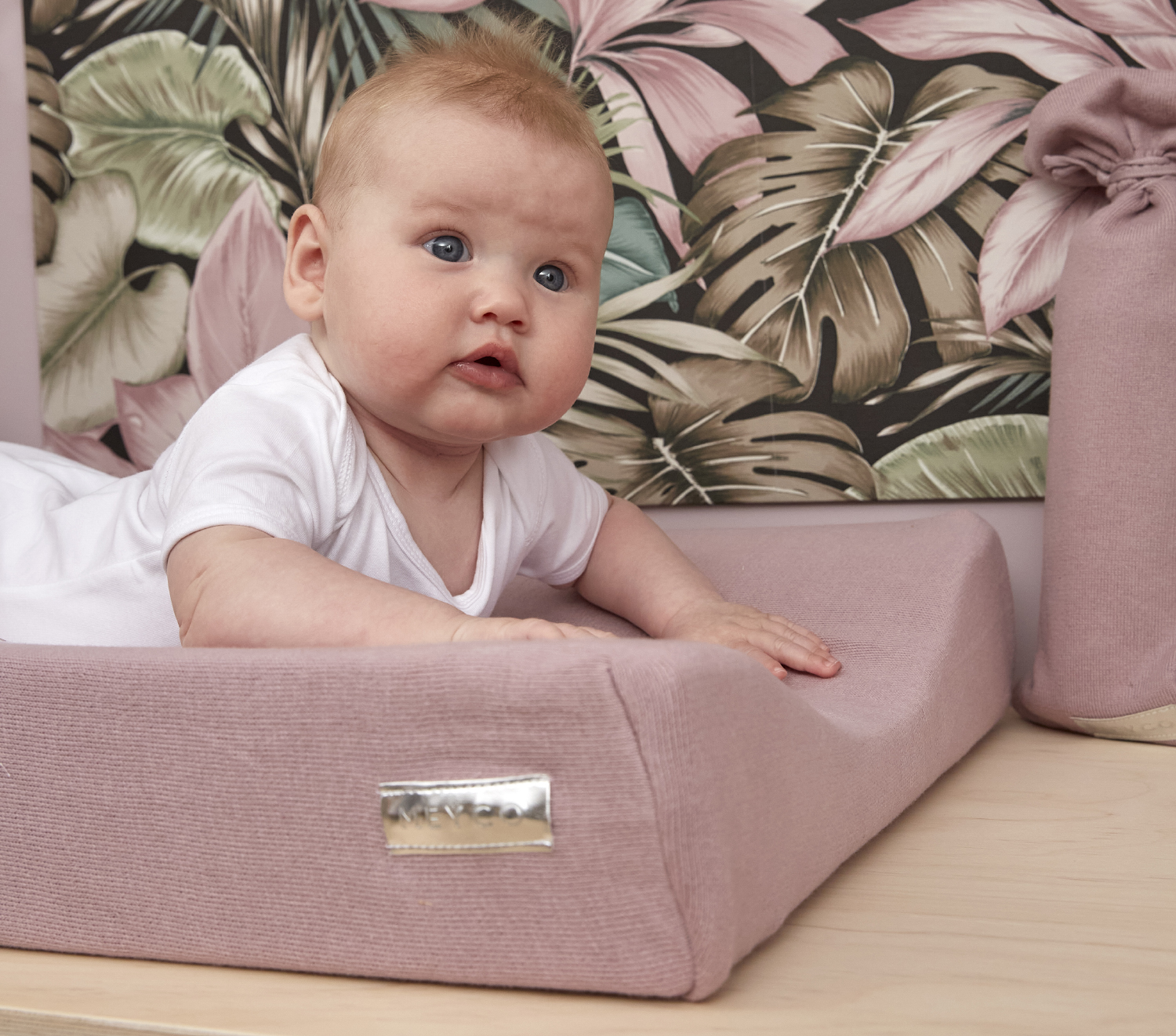 Hoe verzorg je op de juiste manier je baby die vanaf zijn geboorte zo kwetsbaar is? Een vraag die ongetwijfeld alle ouders bezighoudt, maar wees gerust, ieder vindt hierin zijn eigen weg. Meyco staat je daarnaast bij in deze bijzondere tijd met de mooiste en veilige babyverzorgingsproducten.
Je vindt bij Meyco onder andere de meest comfortabele aankleedkussenhoezen passend bij de rest van je babykamer. Maar ook billendoekjesetui's, zachte badjasjes of babybadcapes zijn voor een leuke prijs uit te zoeken. Uiteraard is dit allemaal mooi, betaalbaar en met liefde gemaakt voor jullie als ouders & kleine wonder.
AANKLEEDKUSSENHOEZEN
Jij wilt uiteraard het allerbeste voor je baby en een aankleedkussen is een superfijn hulpmiddel om je kindje tot rust te laten komen terwijl je hem of haar verzorgt. Voor extra comfort voor je baby na het badderen of tijdens het verschonen is het aan te raden dit waskussen aan te kleden met mooie aankleedkussenhoes. Bij Meyco ben je uiteraard aan het juiste adres voor een uitgebreid assortiment aan betaalbare aankleedkussenhoezen gemaakt van verschillende prachtige zachte materialen in de mooiste kleuren en met de leukste prints en dessins. Zo wordt het kussen met aankleedkussenhoes een echte blikvanger op je commode en kan je het babykamertje naar eigen smaak & stijl vormgeven zonder concessies te doen op het gebruiksgemak of de look van het kleine slaapkamertje.
HYDROFIELE DOEKEN & SWADDLES
Ouders die voor het eerst in verwachting zijn komen dan vaak pas voor het in aanraking met de term hydrofiele doeken. Je hebt ze eerder waarschijnlijk nog nooit gemist maar met een baby'tje kun je écht niet zonder. Daarnaast is het ook een geliefd kraamcadeau! Wat is het? Hydrofiele doeken zijn licht, dun, gemaakt van 100% katoen, absorberen vocht en drogen supersnel. Ze zijn bovendien heel fijn voor de gevoelige huid van je baby. Zo gebruik je ze onder andere als handdoekje, spuugdoek, als slab, als ondergrond bij het verschonen, als bescherming tegen de zon.. en ga zo maar door.. Gelukkig is er het ruime assortiment van Meyco, wij hebben betaalbare hydrofiele doeken in verschillende maten; grotere hydrofiele multidoeken en swaddles, hydrofiele luiers, hydrofiele monddoekjes & hydrofiele washandjes. Bij bijna elke collectie maken we passende hydrofiele doeken in de leukste kleurtjes en met de leukste prints om eindeloos mee te variëren, mixen & matchen.
Met een Meyco babybadjasje of babybadcape komt je kleintje extra goed voor de dag tijdens het badderritueel. Naast dat het ontzettend schattig staat is het door het knuffelzachte materiaal erg comfortabel en praktisch. Wanneer je baby net uit bad komt kun je hem of haar lekker warm houden worden de grootste badderspetters al geabsorbeerd, extra snel afgedroogd dus! Ook is een babybadjas of babybadcape natuurlijk fijn op vakantie bij het zwembad of bij bijvoorbeeld controles op het consultatiebureau. Bij Meyco mooi & betaalbaar.
Vaak is het zo dat pasgeboren baby's moeite hebben met het vasthouden van hun eigen constante temperatuur. Het kan dan helpen om een babybedje of een kinderwagen voor te verwarmen, hiervoor wordt vaak een kruik gebruikt. Bij het gebruik van een kruik hoort altijd een kruikenzak, deze kruikenzak zorgt er bij goed gebruik voor dat er nooit direct contact is. Meyco heeft een groot assortiment aan kruikenzakken en deze zijn leuk te combineren met andere items van je babyuitzet. Zoals eerder benoemd; gebruik een alleen kruik om het bed of kinderwagen voor te verwarmen. Verwijder de kruik als de baby in het bedje of kinderwagen ligt!